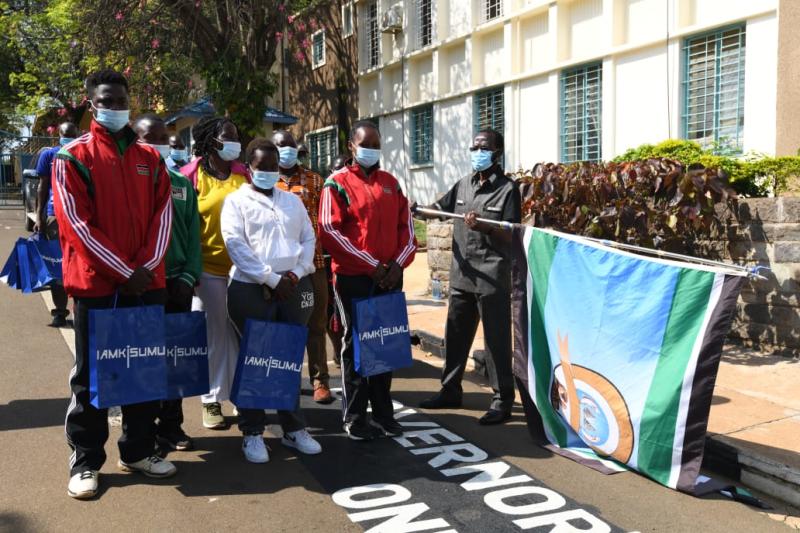 Six athletes from Kisumu are the latest players that joined the national basketball team as Kenya prepares to host the East African Deaf Basketball Championships.
The players, two men and four women were selected from the Kisumu County Deaf Basketball team that represented the county during the National Deaf Basketball Championships in Nairobi last month.
While the men's teams were runners up in their category, the women's team became the overall winners.
The six will join up with the national deaf basketball team ahead of the regional games that will be held at Nyayo Indoor Gym Arena from September 17th -24th next month.
The players include Maureen Anyango, Lydia Akinyi, Christine Nyambeki, Mercyline Nekesa, David Ogogo and Kevin Otieno.
Kisumu County Governor Anyang Nyongo flagged off the Kisumu athletes as he pledged support to fulfil needs of people with disabilities not only in sports but also other sectors including governance and businesses.
"After performing well in the national games, six hardworking players have been called to the national deaf basketball team which shows that we have a strong team."
"We wish you luck and we will continue to support you," said Nyong'o whose government has spent over Sh24 million to support People Living with Disabilities.
The East African Championships will also be used as the qualifier for the 24th summer Deaflympics in Brazil.
Kisumu County Deaf Basketball Team
Women-Maureen Anyango, Lydia Akinyi, Christine Nyambeki, Mercyline Nekesa,
Men-David Ogogo, Kevin Otieno