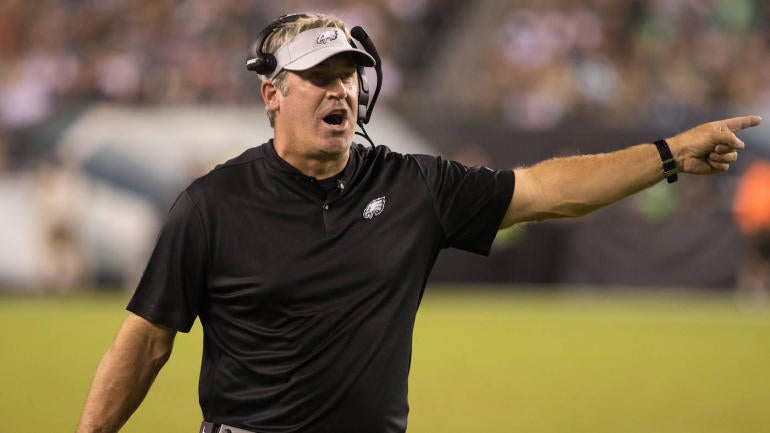 Bill Streicher / USA TODAY Sports
Some would argue Matt Nagy is on the hot seat entering the Bears' 2021 season. This week at training camp, Chicago's coach played host to a former colleague who, earlier this offseason, was flung off his own hot seat: Doug Pederson. Seven months after his dismissal from the Eagles, Pederson was spotted at Bears camp on Thursday, complete with team apparel. Though Sports Illustrated's John McMullen reports Pederson was strictly a guest at practice, his Bears attire and Nagy connection sparked speculation of a potential or future job as the ex-Eagles coach seeks a return to the NFL.
"At the very least," NFL Media noted, "it was an opportunity (for Pederson) to catch up with old partners."
When will Justin Fields start for the Bears? And how far can he take Chicago in his rookie season? Download the CBS Sports app and get the latest news, insights, and surprising predictions from our team of experts. If you already have the app, make sure to favorite the Bears to get the latest news quickly. 
Pederson and Nagy were colleagues for seven straight seasons from 2009-2015, first with the Eagles and then with the Chiefs — both times under Andy Reid as head coach. They've also both coached quarterback Nick Foles, who won Super Bowl MVP with Philadelphia under Pederson's direction in 2017, then started seven games for Nagy and the Bears in 2020.
Pederson said earlier this summer that he's still rooting for the Eagles, who replaced him with Nick Sirianni in January, but hopes to be running another team in 2022.
"For me, I feel like if I get another opportunity, I wanna do it again," he said. "I went to two Super Bowls as a player in Green Bay and then obviously (again), being the coach of Philadelphia, so three Super Bowls. And when it gets in your system like that, it's just hard to turn that off. And the competitor inside wants to continue to compete. Hopefully I get another opportunity to lead a football team and do the same things again and learn from the last five years."