PUBLISHED
July 25, 2021


AARHUS/
KARACHI:

Pakistan is often termed a prime country for adventurers as it is home to some of the highest mountain peaks in the world and offers diverse terrain that caters to the preference of all kinds of travellers. Situated in the north, five of the 14 highest independent peaks in the world are present in Pakistan.
In 2018, the British Backpacker Society ranked Pakistan as the top destination for adventure travel and the country also topped Condé Nast Traveller's list of best holiday destinations for 2020.
To gain deeper insights into the adventure and tourism ecosystem of Pakistan, The Express Tribune reached out to tourists and adventures for detailed accounts of their journeys across the country.
A rocky road
In comments to The Express Tribune, Motorcycle Girl of Pakistan Zenith Irfan detailed that riding a bike on mountains was quite different compared to driving it in a city.
According to her, two things pose huge challenges while motorcycling across the country ie changing weather and difficult terrain.
"Geography wise, terrain is the biggest issue and I took some time to learn how to drive bike on diverse landforms," she said.
She added that Pakistan had a lot to offer to adventurers and gave example of Gilgit-Baltistan where visitors can find desert, mountains and rivers.
Rarely there is another place on earth that offers the combination of all three landforms, she said.
"I will recommend every Pakistani to explore their country on a motorbike because Pakistan is blessed with a diverse terrain, geography and scenic beauty," she said. "Moreover, one can explore more openly on a bike and have a liberating experience."
Talking about security, she termed northern region of Pakistan safe and said she never had a problem or felt unsafe.
She added that adventurers like her were playing a role in promoting Pakistan as a destination for adventure by posting their travel accounts on social media particularly Instagram.
'Not for everyone'
Travel blogger Muhammad Ilyas said the adventure ecosystem in Pakistan is not organised because people are expected to carry their own equipment and protective gear.
Other nations, particularly European economies that house Alps, ensure that adventure gear is available for rent or purchase for visitors for respective activities offered by them.
Ilyas, a habitual camper, said that lack of physical fitness among the general public is a huge issue.
"When locals hear about adventure, camping, hiking or similar recreations, they become thrilled and gear up for them but once they begin the exercise, they realise that they are unfit and hence many of them experience problems and are unable to enjoy the trip," he said.
He detailed that by the end of adventure, not everyone is content and few people just long to return to their comfort zones.
From an earlier camping trip, he recalled watching few travellers face problems while sleeping.
Rains at campsites scare quite a few people as gusty winds can tear tents apart and wreak havoc which terrifies fresh travellers.
"Hence adventure is not for everyone," he concluded.
Syra Hussain, who runs a travel focused blog on Instagram, said that Pakistan possesses immense potential to transform itself into a global hub of tourism and travel.
"Hardly any other country comes close to the diversity that Pakistan offers to travelers and adventurers," she said. "Take example of northern region, eight languages are spoken in Gilgit-Baltistan (G-B) and every district contains people from different ethnicities."
Some of the highest peaks of the world are also located in Pakistan and the integration of different plains, rich culture and history makes it a prime location for travellers.
If more facilities are offered and travelers are given more opportunities, Pakistan's tourism sector can rise to a new peak.
Solo traveling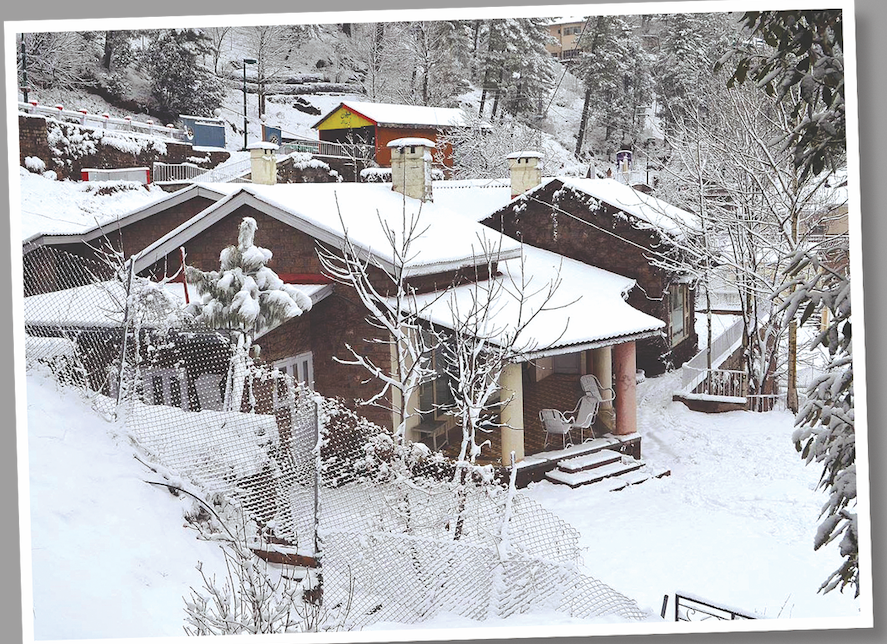 Hussain, who motivates girls in her community and rest of Pakistan to travel alone, holds the view that assurance of security is essential for vacationers.
"Solo travelling in Pakistan cannot be promoted in true sense until the authorities ensure security," she said. "Laws should be implemented in a strict manner and whenever there is an incident, it should be countered by the authorities."
Hussain considers Pakistan to be a safe country for travel "because people are respectful, welcoming and hospitable."
When it comes to foreigners, locals welcome them with open hearts, she said.
She remarked that she had been travelling for the past six to seven years and never had a single bad experience.
However, she admitted that there is always an uncertainty and in this regard, she recommended females to take safety measures such as keeping phones charged, loaded with credit and connected to the internet at all times.
"I want to give a message that Pakistan is safe for female solo travellers," she said.
Ghazanfar Shehzad Sandrana, who explores Pakistan on a bike, termed it a thrilling sport and said that he never faced a problem while exploring the country.
"Prior to visiting the places that are prone to security lapses, bikers need to attain no objection certificates (NOCs) and other similar approvals from the government departments," he said.
In comments to The Express Tribune, he motivated all Pakistanis to undertake whichever adventure activity suits them the best because it is therapeutic and good for health.
Challenges and mitigation
Polani Travels Operations Manager Syed Sameer Muzaffar considers the current government's tourism policies quite "wise and friendly".
He stressed that ease of travel and relaxed visa policies are essential to boost tourism, much in line with the incumbent government's vision of bolstering the tourism sector.
In 2019, Pakistan eased its visa requirements by offering on arrival visas to citizens of 50 countries and electronic visas to visitors from 175 countries.
Prime Minister Imran Khan too has reiterated on numerous occasions the importance of the tourism sector for the economy while adding that Pakistan can easily become a top tourist destination in the world thanks to the natural and cultural diversity and the many historical attractions it hosts in abundance.
Travellers Hub Pakistan co-founders Shahzaib Bhutto and Sabeera Hussain, who have facilitated over 2,000 individuals on their journeys around Pakistan, elaborated a few challenges they face from time to time.
"First is unreliable access with regard to both air and land," they said. "Specifically, the deteriorated state of many local roads, along with an upsurge in traffic over past few years, has sparked uncertainty about accessibility and time needed to reach destinations."
Moreover, there is a lacking in regulatory environment and a lot of improvement is needed on this front, they said.
They remarked that businesses should be able to set prices for their services but a few rules need to be in place for them to follow.
The two officials lamented that "at present, any firm can demand whatever amount it want from tourists for rooms. Basically, there is no standard judgement of value."
They were also irked over lack of digitalisation of existing transport systems (busses, operators) as well as the existing hotel infrastructure.
One has to go around the place themselves to understand what is available, they said.
Vaqas Aizid Khurshid, a traveller and adventurer, stated that infrastructure was the biggest problem in the overall travel and adventure ecosystem of Pakistan.
"Very few facilities are available in remote places and some spots have become accessible to the general public solely due to cooperation of locals," he said. "Government support is direly needed for this sector."
He endorsed Hussain views and said security is no longer an problem in Pakistan.
"I have facilitated group tours, sometimes having females, and there was never a security issue," he said. "In addition, access to food is also not a problem for travellers anywhere in Pakistan."
However one big problem that affects whole traveling industry is the availability of washrooms as many tourist places lack public toilets.
Besides, mobile signals are occasionally weak in far flung areas and at times, they disappear for several days and as a result, travellers lose contact with the rest of the world.
Sometimes, landslides or floods block roads and people remain stranded at one place for several days while waiting for authorities to clear the path.
Finally, he lamented lack of hotels, resorts and rest houses at prominent adventure sites of the country and said that people are forced to either camp or sleep under open sky due to absence of proper accomodation.
A Chief Operating Officer of an adventure club, on the condition of anonymity, said that infrastructure was the biggest problem hindering the growth of adventure in Pakistan.
In other countries, government lends supports to all adventure and tourist sites but this was not the case in Pakistan and facilities are scarce in the country.
He further added that the Pakistan Tourism Development Corporation, the dedicated tourism authority of Pakistan, was in a lamentable state.
Adventurers and tourists have to use jeeps instead of cars and bikes because no attention has been paid by the authorities to improve the terrain.
He further regretted that road to Skardu was still under construction even after five years had lapsed since the development work kicked off.
The official admitted that PTDC hotels were the best in Pakistan "but they are non functional."
Talking about camping, he said that few sites lacked even most basic utilities however he appreciated the government for introducing tourism friendly initiatives at Fairy Meadows and Kumrat Valley which enhanced the number of campers at the two sites.
The official highlighted that Neelum Valley was located near the Line of Control therefore the situation at that place was usually uncertain and many tourists are afraid to visit that part of the country.
How government can assist
The official remarked that first and foremost, the government should prioritise building roads to inaccessible parts of the country and repairing broken paths.
He further called upon the leadership to promote tourism on modern lines and give a new and updated look to PTDC's website.
Giving example of tourism websites of other regional countries, he was of the view that PTDC's webpage was outdated.
"There is no doubt that the security situation improved 10 years ago and the government should be appreciated for it," he said. "The leadership has announced excellent plans for the tourism sector and I hope they materialise in true spirit."
Muzaffar felt that more infrastructural development work, especially in the northern areas, was the need of the hour to attract tourists from outside of Pakistan.
"Compared to other developing countries, our hotel and road infrastructure, particularly in the northern areas, is not up to the mark. The potential is much more," he highlighted.
Khurshid stressed that if promotion of tourism became the top priority of the government, then this sector alone could boost the flow of dollars in the country.
He also recommended constructing public washrooms at all tourist places citing that it would give a boost to camping activities in Pakistan.
"Many people are reluctant to camp solely due to lack of washrooms," he said.
K2 base camp
Arba Tourism CEO Khobaib Vahydi, who assists adventurers to travel to K2 base camp, said that it was not difficult to travel to the location.
"If a person is physically fit and can walk 7-9 hours straight, he can trek to the base camp easily," he said. "There is no age limit however pre requisites exist for making this journey and the conditions are that the person should not be overweight, possess good stamina and have no breathing problems."
The CEO added that his sons aged nine and 12 years accompanied him to the base camp on one of the journey.
"Even children smaller than that can visit the location and recently, I facilitated a foreigner aged 75 years to reach the base camp," he said. "Therefore it is possible for everyone to climb to that place."
Detailing the facilities available for travellers, he admitted that they were inadequate however he appreciated the government for taking targeted initiative in recent years such as construction of jeep track to Jhola.
Earlier, people had to hike to Jhola but with jeep track in place, it saves a lot of time and energy, he said.
He recalled visiting Mount Everest Base Camp in Nepal in 2012 and pointed out that the facilities at that place were way better compared K2 base camp.
Comparing the two countries, he said that several tea houses, resorts and hotels were located near Mount Everest base camp in Nepal.
"Here in Pakistan, people have to set up tents or camps to sleep and rest," he said. "My son accompanied me to Nepal as well hence climbing Mount Everest base camp is not an arduous task either."
Giving details of safety at K2 base camp, he said that mattress are placed inside the tents which act as insulated seat and sleeping bags are placed upon them to enable the adventurer to sleep comfortably.
Network services
Moving on to network services, Vahydi highlighted that SCOM laid fibre optic line near K2 base camp this year after which calls can be made through mobiles and wifi service can be used.
"Earlier, we used to carry satellite phones and sometimes, we used to go out of contact for 12-14 days which perturbed the families of adventurers back home," he said. "Now, 4G network service has been installed at Concordia as well."
He further appreciated Prime Minister Imran Khan's efforts aimed at promotion of tourism such as Clean and Green Pakistan and Billion Tree Tsunami and added that public's support was also needed for success of the two initiatives.
While visiting northern areas, local travelers should be forced to plant trees at places where fertile land and conducive environment for plants is available, the CEO recommended.
"International tourists demand cleanliness and the two schemes are proving vital in attracting foreigners to Pakistan," he said.
He lamented that delegations from South Africa, Malaysia and US were due to visit Pakistan in 2020 however they were forced to call off the tour due to outbreak of Covid-19.
The number of international travelers in Pakistan in 2021 stands at a low level due to global Covid-19 restrictions.
"Recently, French adventurers wanted to visit K2 however insurance companies in their country refused to offer insurance coverage because they know Pakistan is a risky destination and government facilities are inadequate," he said.
Safety measures in adventure sites of Pakistan are scant and because of this, a lot of foreigners hesitate to visit the country. He called for improvement on this front to boost adventure ecosystem of Pakistan.
Moving on to food, he said plenty of edible items and clean drinking water were available in tourism sites of Pakistan however he demanded enhancing their availability to far flung areas near K2 base camp.
Facilities at Skardu
Elaborating the measures taken by the government for Skardu, he recalled that earlier, flights to the scenic city were only available from Islamabad and securing seats was a huge problem because of fully booked flights.
"Nearly 80% of the time, people failed to book spaces on spot," he elaborated.
Due to government efforts, airlines have introduced Skardu bound flights from major cities of Pakistan including Karachi, Sialkot and Lahore which has lent massive support to adventurers and travelers.
"The load of Skardu destined travellers on Islamabad airport has fallen due to this initiative," he said.
Talking about Skardu he said there was little to no support from the government for the city.
Private hotels are present for tourists however the government needs to introduce special facilities for visitors.
He underlined the need to construct guest houses of international standard in the city.
Moreover, cleanliness should be ensured at all tourist sites of the country along with public washrooms.
With regard to Covid, he said facilities like Covid testing centres, socially distanced sitting areas and quarantine spaces should be established. He was of the view that all these facilities would earn hefty revenue for the government.
"When we travel to foreign countries and land at a particular city, there are tourist guides, travel books, brochures, maps, subway routes and similar stuff available that contain details of how to navigate around the city and what places to visit," he said. "Such initiatives are needed at Skardu and travelers from Pakistan and foreign countries should be made aware of the places of interest in and near the scenic city."
Environmental degradation
Vahydi demanded targeted efforts for waste management particularly plastic waste and garbage.
"Internationals travelers and adventurers know better not to dispose off the rubbish in tourist sites but locals are the problem here," he said. "They litter freely and ruin the natural beauty of the place."
He underlined the need for raising awareness so that each local tourist carries a bag to collect the garbage in it or search for a safe disposal to avoid littering.
The CEO expressed concern the easily accessible tourist places were worst affected from this problem.
"Environmental degradation is emerging as a huge challenge problem in areas like Hunza and Lake Saif Ul Mulook," he voiced fear. "Efforts aimed at recycling are almost non existent which only adds to the miseries of the locals of the tourist sites who watch their places get ruined."
Environmental protection measures are direly needed, he said.
Changing the subject to global warming, he regretted that glaciers were melting at a rapid pace and pollution was increasing all across Pakistan.
He was disturbed over improper disposal of industrial waste all across the country due to which, weather patterns were changing and glaciers were melting faster than ever.
"Widespread flooding takes place due to this problem and billions of dollars worth of water is drained in the Arabian Sea each year," he said. "We do not even have the resources to conserve the water from melting glaciers."
Frequent domestic and international traveller and Instagram influencer Wasif Malik said that with five of the 14 highest mountains in the world, including K2, longest glacier system outside the polar region, second highest plateau and numerous pristine lakes, Pakistan's Northern areas have the "best mountain scene in the world."
He, however, feared that rapid, unchecked construction work might compromise the scenic views.
"The construction work must be regulated and based on certain standards to ensure that the natural scenery and beauty of these mountainous regions remains unaffected," he stressed. "It is a global treasure [mountain ranges] that Pakistan is entrusted with to take care of and maintain…the preservation of this ecosystem is imperative."
Malik affirms that most importantly, travellers must be instructed to maintain cleanliness while visiting northern areas, terming these attractions national assets.
"If the northern areas start looking like big cities, that would be the biggest disservice to the country," he added.
Impact of 18th amendment on tourism
Vahydi said that after the approval of 18th amendment, tourism devolved into a provincial subject and now, every province was lagging behind in terms of tourism including Punjab and Khyber-Pakhtunkhwa.
None of the province offers facilities to travelers at par with its actual potential.
"Thailand, Malaysia and Nepal are smaller countries compared to Pakistan yet the facilities they offer for tourists are outstanding," he said. "If Pakistan employees all its resources, it has the potential to become the best country for tourism in the world."
Religious tourism
Muzaffar added that Pakistan's religious tourism potential came to the light following the opening of Kartarpur Corridor.
"Other sites of religious significance such as Katas Raj Temple and Nankana Sahib appeal to people from across the border," he said.
Muzaffar thinks that besides these prominent attractions, Pakistan's religious tourism scope extends to shrines as well however most people are unaware about them.
He was of view that these sites can be promoted and full potential of religious tourism can be tapped through social media and documentaries.
Rajesh Kumar, who visits Balochistan regularly as a religious tourist, said that there is no security problem however lack of facilities is a big issue
"The sites operating on private funds are doing well but those that are functioning on public funds are in a deteriorating state because maintenance is low," he said.
Talking about Punjab, he said its religious sites were well maintained and in good condition
The funds for temples run on public money are usually insufficient and do not even cover wear and tear.
This is the big difference between privately managed and publicly managed religious sites.
"Government run temples in Punjab area class apart from rest of the country," he said.
Kartarpur Corridor and Nankana Sahib are state of the art religious sites and a must visit for every Pakistani, he concluded.
Giving further details of religious tourism, Travellers Hub Pakistan co-founders Shahzaib Bhutto and Sabeera Hussain said that religious tourism has been gaining ground in Pakistan particularly due to the inauguration of Kartarpur Corridor coupled with an improved security situation.
They were of the view that few steps were needed to ensure a substantial increase in religious tours such as promotion and maintenance of sacred sites as well as availability of accommodation at reasonable rates and controlled prices.
"Moreover, improvement in infrastructure is direly needed to ensure that planned itineraries are executed smoothly," they said.
The two co founders also called for uploading pertinent information of religious sites on dedicated websites.
They admitted that even they were unaware of the actual number of such sites in Pakistan.
Finally, they demanded introduction of initiatives to improve religious harmony and understanding among people of different faiths, to increase empathy and acceptance, along with security