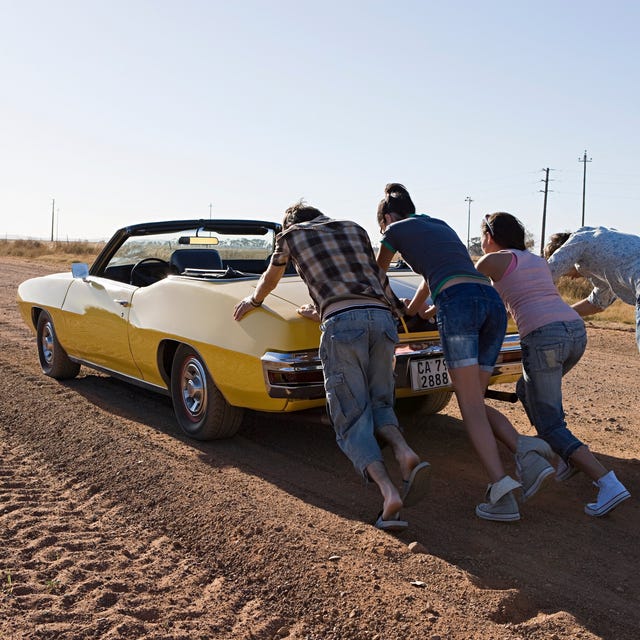 Christoph MartinGetty Images
Look, we get it. It's 2021: you carry a smartphone with you at all times, and you have both an AAA membership and the app. In most situations, that will be the most important tool in your arsenal in getting you out of whatever roadside jam you find yourself in.
But it's always a good idea to have a backup plan — especially if you're planning a long highway drive, leaving the pavement, encounter inclement weather frequently or don't want to entrust matters to your not-so-reliable cell service provider. In other words, you should have a roadside emergency kit.
In a perfect world, money wouldn't be an issue, and you'd have ample time to research the best jumper cables, best portable jump starter, best tire repair kit, best portable air compressor, best tool kit, best flares, best portable shovel, and best heat blanket to build out your own optimal roadside emergency kit. But most of us, well, have other things to do — so the best option for most people is a simple pre-assembled roadside assistance kit that ou toss in the trunk and hope you never need.
What do you need for a roadside emergency kit? It depends on your circumstances. Everyone will want basic tools for repairing tires, jump-starting a dead battery and alerting other cars to your presence, particularly at night. If you live somewhere like Vermont or Minnesota, you probably want to pack a shovel and winter gear. And if you're going overlanding, you may want a more robust first aid kit than can transition from a car to the campsite.
Here's a look at some of the best roadside emergency kits you can buy.
Advertisement – Continue Reading Below
Haiphaik Emergency Roadside Toolkit
The Best Overall Roadside Emergency Kit
This is an affordable package that provides jumper cables, a tow rope, a solid set of tools and a shovel for less than $40. 
Lifeline AAA Excursion Road Kit
The Best High-End Roadside Emergency Kit
Lifeline is the exclusive manufacturer of AAA-branded kits. This is their top-of-the-line 76-piece kit, which includes both medical and roadside essentials, as well as a portable air compressor. 
Lifeline AAA Winter Safety Kit
The Best Roadside Emergency Kit for Winter
Live in a cold climate? Lifeline's AAA-approved winter safety kit has all the winter emergency gear and helpful items to stay warm like an emergency blanket, gloves, scarf, hat and hand warmers. 
First Secure Emergency Roadside Kit
First Secure's 90-piece roadside assistance kit focuses on providing high quality, essential tools for roadside emergencies. It includes both an air compressor and a tire repair kit.  
Swiss Safe 2-in-1 Emergency Roadside Car Assistance with Premium First Aid Kit
This isn't the most compact option, but Swiss Safe's 2-in-1 sets you up with a solid basic toolset with jumper cables and a premium 348-piece first aid kit for less than $50. 
Huckberry Large First Aid Kit
If you're set on road accessories and need a first aid kit, Huckberry's is neat, portable, employs single-use packaging to keep everything sterile and contains all the things you hopefully never need. 
Lianxin Roadside Assistance Emergency Kit
This 142-piece kit from Lianxin is another compact, portable kit featuring just about every roadside accessory one could think of. 
The Most Important Pieces of Gear You Need for Car Camping
Car camping makes getting away easy as pie. These items make it even tastier.
This content is created and maintained by a third party, and imported onto this page to help users provide their email addresses. You may be able to find more information about this and similar content at piano.io
Advertisement – Continue Reading Below