17 June 2021, 10:54 | Updated: 17 June 2021, 12:11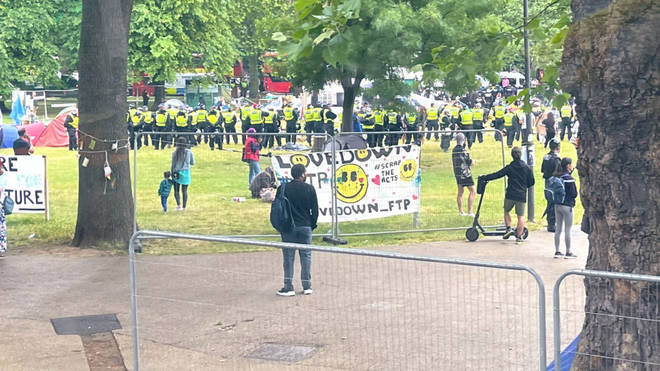 Riot police and bailiffs have descended in large numbers to clear an anti-lockdown protest camp from Shepherd's Bush Green in London.
The so-called 'Lovedown' camp was set up a couple of weeks ago in protest against the lockdown measures in England, mask-wearing, Covid tests and vaccines.
Earlier this week, bailiffs gathered to remove them after the High Court approved a possession order by Hammersmith and Fulham Council.
But some protesters have remained at the scene, with around 20 tents occupying the green.
Dozens of police vans carrying members of the Met's Tactical Support Group and officers with riot gear descended on the camp this morning.
Read more: Man, 57, charged after journalist confronted at anti-lockdown protest
Read more: PM condemns moment journalist forced to flee anti-lockdown hate mob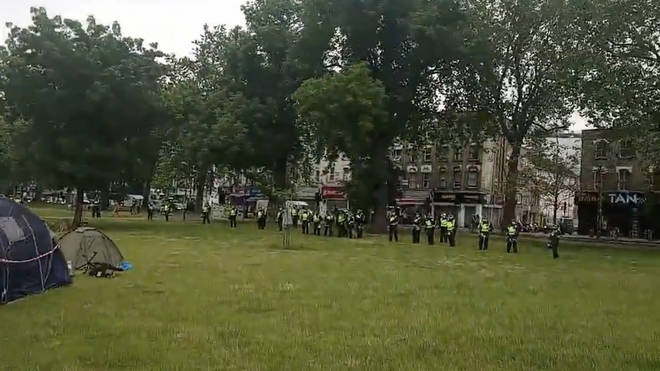 A spokesperson for the council said its officers were removing tents on 15 June.
"We continue to support the Met Police and bailiffs to clear the trespassers on Shepherds Bush Green following receipt of a possession order," the council worker said.
A Metropolitan Police spokesperson said its officers attended to "prevent any breach of the peace".
Piers Corbyn, the brother of former Labour Party leader Jeremy Corbyn, recently visited the camp to offer his support to the protesters.
Read more: Crowd of anti-lockdown protesters gather at No10 over 'Freedom Day' delay
Watch: Eddie Mair confronts Tory MP over lockdown extension announcement
There's been a noisy anti-vax and mask protest + occupation at Shepherds Bush Green park for weeks now. They're shouting complete nonsense like "2.4 mil have died from Covid vaccines". Police + bailiffs have been circling them for days, with police numbers increasing. pic.twitter.com/n68DB0ELwi

— Manos Nikolaidis (@shadowmanos) June 17, 2021
Videos posted on social media appear to show the demonstrators still on the green.
The group chanted "United we stand, together we rise" while banging pans and bongos.
The Met said: "On Thursday 17 June officers attended Shepherd's Bush Green, W12 to support the National Eviction Team as they carry out an eviction following the receipt of a possession order from the High Court by the Hammersmith and Fulham Council.
"Officers were there in order to prevent a breach of the peace, assist with any obstruction issues and deal with any criminal matters."