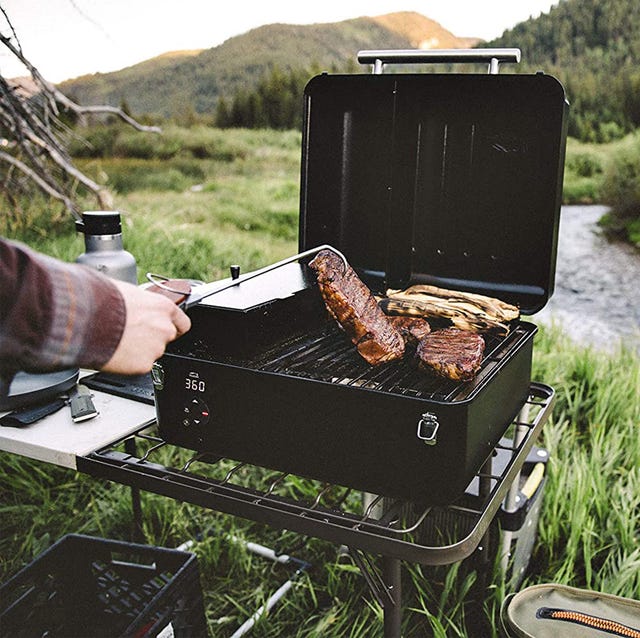 Traeger
Camping stoves come in all shapes, sizes and weights, and they burn a range of fuels from white gas to isobutane — the stuff in the squat, lightweight canisters — to propane to wood. Before you buy a stove, think about how you'll use it. Are you backpacking or car camping? Portable camping stoves range from ounces for an ultralight backpacking option to 60 pounds for a small smoker grill.
Another key factor when you're shopping for stoves is what fuel is available where you'll use the stove. For example, if you're traveling internationally, trying to track down an isobutane canister can be a multi-day project, and picking a stove that burns white gas or even unleaded might save you time, effort and money. And a wood-burning stove might be ideal for forest camping but not so much for high traverses above treeline.
Then, decide how and what you want to cook. For example, a stove that boils water fast might be great for dehydrated meal cooking, but it might not simmer as well as another model. Whichever camp stove you choose, clean it of grease and food when you're done with your meal. That'll keep animals away and help your stove last for decades of camping trips.
Advertisement – Continue Reading Below
Best Overall Stove: MSR WhisperLite International Multi-Fuel Stove
Finding isobutane canisters can be challenging when you're traveling. That doesn't matter for this stove, which burns white gas, kerosene and, in a pinch, even unleaded. It's fast too — boiling a liter of water takes just 3.5 minutes. At 10.9 ounces, it's sized for backpacking, with wide pot supports that fold for transport. Plus, it's one of the most efficient stoves in cold temperatures, which has earned it wide trust amongst mountaineers.
Works in cold temps and at altitude
Burns various fuel types
No simmer function
MSR fuel bottle required
Best Upgrade Stove: Traeger Ranger
Smoke meat, vegetables and more in your campsite with Traeger's 60-pound, portable, pellet-powered smoker grill. Bear in mind that you'll need to power it from your vehicle or a portable power pack to use it, but that enables its Digital Arc Controller, which keeps the temperature consistent. There's also a warm mode that can keep food from going cold if you're busy with an impromptu frisbee game. It comes with a cast iron griddle as well as grill grates.
Grill and smoker functionality
Can slow cook without constant monitoring
Requires electricity
Heavy
Best Budget Stove: Coleman Classic Propane Gas Camping Stove
For car camping, it doesn't get more dependable and affordable than Coleman's Two-Burner. Each burner is independently adjustable and large enough to hold full-size pots or a griddle, and they put out 20,000 BTU of heat while side flaps block any wind.
Dependable
Space for two pots
Easiest Stove to Pack: Primus Firestick Ti
Pull the cap off this clever and compact titanium backpacking isobutane stove, and the three spring-loaded, wind-blocking pot supports deploy to reveal a burner at the center. The stove, which screws onto any isobutane canister, comes in a felted pouch that also holds a piezo igniter.
Easy to operate
Rugged
Focused flame profile
Igniter is separate
Somewhat precarious
Best Stove System for Backpacking: Jetboil Stash
The seven-ounce, insulated Stash is a highly functional, fully integrated ultralight cooking system that can boil water in 2.5 minutes. The included 0.8-liter pot, which has a drink-through silicone top, doubles as a mug or bowl and stores the stove burner, isobutane canister and canister support for ultra-compact packing when traveling.
Fast boil time
Fuel-efficient
Compact packing
Add a second cup if you have two people
Best Ultralight All-in-One Stove: MSR PocketRocket Deluxe
The smallest stove with a built-in igniter is highly adjustable from simmer to boil, and it burns hot, boiling a liter of water in 3.5 minutes. The push-start igniter means no lighter required, and the new, broader burner is wind-resistant. Like many other camping stoves, this one runs on isobutane.
No lighter needed
Easy to adjust heat
Less stable than some stoves
Best Charcoal Grill: Solo Stove Grill Ultimate Bundle
This easy-to-light convective airflow stove burns hot and fast so you can have the great taste of charcoal cooking without the hassle or the wait. Its cylinder shape provides a large surface area for food over a lower grate that holds the charcoal. This bundle comes with 13-inch legs, but you can remove them for easier transportation (and better marshmallow roasting access). It's heavier than other stoves on this list, so consider this one for car camping.
Lights fast and reaches cooking readiness quickly
Legs swap for two cooking height options
Bundle comes with grill tools, charcoal, fire starter, travel bags, grill cover, and tall legs as well as short legs
Best Wood Burning Stove: Vargo Titanium Hexagon Wood Stove
Vargo's hexagonal titanium stove burns twigs and other small scraps of wood, which means that you can avoid carrying fuel with you. It's also hinged and folds flat for travel, making it ideal for ultralight setups. Deployed, the sides form a cone that focuses heat up toward your pot, and one of its panels is hinged so you can add more fuel and control the damping without pulling your meal off the heat. Add in Vargo's converter stove, sold separately, and you can use this one to burn alcohol, fuel tabs or gels.
Lightest camping stove on this list
No need to carry fuel
More hassle than gas stoves
Most Powerful Stove: Camp Chef Pro Series Deluxe 2-Burner Camp Stove
Simmer, boil, braise, grill and toast over this stove's two propane-powered cast-aluminum 30,000-BTU burners. Electronic ignition and a 3-sided windscreen help get this standing stove going and keep it burning in all weather. The folding steel tubing legs have built-in levelers and are angled to give the stove stability on uneven ground, and burner covers double as side tables for campsite mise en place. The whole thing is transportable with a briefcase-style handle and runs off regular grill-sized propane tanks.
Available accessories include a grill and pizza oven
Burner covers double as prep space
Hottest burning stove on this list
Buttons that lock legs are finicky
The 13 Best Camping Chairs of 2021
Lightweight seating for every type of camping out there.
This content is created and maintained by a third party, and imported onto this page to help users provide their email addresses. You may be able to find more information about this and similar content at piano.io
Advertisement – Continue Reading Below